Here at Prototek we have been innovating and manufacturing underground locating equipment for over 30 years. Our goal is to engineer products to aid you to be accurate and efficient on the job site. All our products are assembled in the USA.
Featured Products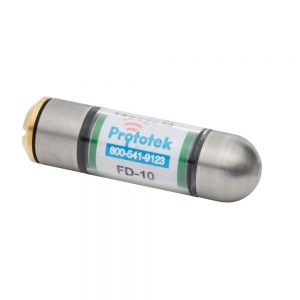 FD-10 | 512 Hertz DuraSonde Transmitter
With its new and more durable and compact design the FD-10 is perfect for locating in lines as small as 2 inches. The FD-10 transmits using the industry standard 512 Hz frequency for locating in cast iron and nonmetallic lines.
Stainless Steel head for durability
Encased in a strong polycarbonate tube
Watertight
Brass battery cap and 2 N cell batteries included
Dropcap available for use with 1/4″ pushrods (sold separately)
Our Spring Carriers are recommended to help protect your transmitter
All transmitters ship 2-day for the price of ground. Just select ground at check out.
not rated
From:
$

385.00
Add to cart
What our Customers are saying
I want to somehow let all know that I was having a problem with my LF2000. After speaking to Andrew over the...
Roger Cardwell - Saylorsburg, PA
Thanks for providing a sample or loaner of your new LF 2200 model. As you know I like the best in my equipment and...
Paul Veyna - Los Angeles, CA
This is one fine product you sell. I have used the Ardy (AR-1) for over 13 years in my job. This little machine has...
Terry Morgan - Rapid City, SD
An old 20+ yr Client was down…sewer line clogged. We cleared it after 3 hrs of tough cabling and when we pulled back the...
Bruce Davis, Sr. - Lynnwood, WA
There is nothing else on the market that works as good. We've been doing this for 15 years and tried a lot of different...
Tim Howe - Oklahoma City, OK
I tell people if I can't locate it, they don't owe me anything. I always get my check. My LF-2000 has helped me out...
Keith Cline - Charlottesville, VA
I went out on my first service call/septic inspection with 'Ardy' in my tool kit. The customer had no idea where the septic tank...
Kent Schaefer - Anacortes, WA