Business Update
Dear valued customers. We would like you to know that we are still open. We have taken precautions to keep our staff safe and to allow our business to stay open. Our sales team will be in office from 7am-3pm PST. If they are unable to answer the phone when you call please leave a message and they will get back with you in a timely manner. Shipping will close at 2pm PST. Our repair shop will be on limited hours and we will keep you up to date on the status of your repair. We appreciate your patience and patronage during this time. 
Here at Prototek we have been innovating and manufacturing underground locating equipment for over 20 years. Our goal is to engineer products to aid you to be accurate and efficient on the job site.
Featured Products
Sale!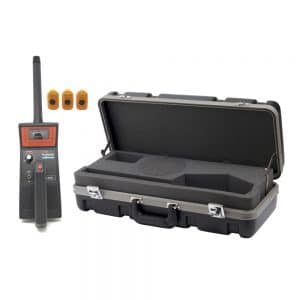 Ardy 223 KiloHertz Analog Kit
223 KiloHertz frequency for nonmetallic locating
The Ardy is our original analog receiver it is simple to use and great for locating septic tanks and for use in nonmetallic pipes. It is compatible with our orange ATP-12, 223 KiloHertz flushable transmitters.
The Analog hard case is made of high density Polyethylene for durability. This is a great accessory to help protect your receiver from the elements.
Simple to use controls allows you to control the amount of signal you see on the meter
Headphone jack for noisy sites
Red battery tester button will help you know when its time to change out the batteries
To calculate depth multiply the distance in inches between your front and back nulls by .7
To order more ATP-12 flushable transmitters please click on the following link. ATP-12 223 KHz
not rated
From:
$

660.00
Add to cart
What our Customers are saying
Well I went out on my first service call/septic inspection with 'Ardy' in my tool kit. The customer had no idea where the septic...
Kent Schaefer - Anacortes, WA
There is nothing else on the market that works as good. We've been doing this for 15 years and tried a lot of different...
Tim Howe - Oklahoma City, OK
An old 20+ yr Client was down… sewer line clogged. We cleared it after 3 hrs of tough cabling'… and when we pulled back...
Bruce Davis, Sr. - Lynnwood, WA
Thanks for providing a sample or loaner of your new LF 2200 model. As you know I like the best in my equipment and...
Paul Veyna - Los Angeles, CA
This is one fine product you sell. I have used the Ardy (AR-1) for over 13 years in my job. This little machine has...
Terry Morgan - Rapid City, SD
I tell people if I can't locate it, they don't owe me anything. I always get my check. My LF-2000 has helped me out...
Keith Cline - Charlottesville, VA